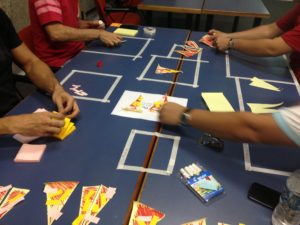 If you have interest in teach about Kanban, but you do not know the better way to do it, I suggest you to do a Workshop. There is no doubt is the better way to start.
With an workshop people has the opportunity to learn about Kanban outside their enviroment and with an assumption different from what they are used to deal.  Besides is much more fun!!!
In this post I will present a Kanban Workshop that you can do with your team. I've tested and I approved! : ) 
This week I made a Kanban Workshop based on the material of Agile42: The Kanban Pizza Game. In the website you can find basic instructions on how to proceed with the game. And there is also slides teaching how to conduct the game (it's in english).
The Kanban Pizza Game by agile42 is licensed under the Creative Commons Attribution-Share Alike 3.0 License.
I prepared my own slides, based on their material, because I need the material in Portuguese. If you want to see my slides you can have a look below.
With this game you will learn How to go from an existing process to a Kanban System.
David Anderson in his book (Kanban: Successful Evolutionary Change for Your Technology Business) says:
Kanban is not a software development lifecycle methodology or an approach to project managment. It requires tha some process is already in place so that Kanban can be applied to incrementally change the underlying process.
---
The Pizza Game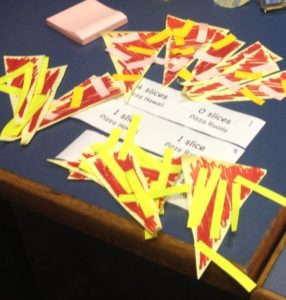 The game is played by rounds of preparation of pizzas slices. Each round you add one or two kanban practices to teach each of them step-by-step.
These practices are the Kanban principles. With the game they could learn the 6 (six) Kanban principles:
Visualize the workflow

Limit your Work in Progress

Manage the flow

Implement feedback loops

Make process policies explicit

Improve collaboratively
Advantages of teach playing a game
Game is an excellent tool for the learning process. It's more fun, is not monotonous and provides examples so that people can do what they've experimented in the game on the real workplance. 
Unfortunately one of the teams were only 3 participants, when the ideal is 4 per team. Even so the team worked very well and served as an example for analysis at the end of the workshop.
---
And you. Did you have already try this game? 

If you have interest about kanban we can talk much more about her on ScrumHalf Blog. Just ask for this. It will be a pleasure to us to talk more about kanban.
---